PRESS RELEASES

(Macau, January 2, 2020, Thursday) — Asia's Entertainment Capital Studio City continues to bring the region's most anticipated shows to town. Studio City proudly presents Canto-pop King Leon Lai's hottest concert "Leon Metro Live 2.0 Concert" at Studio City Event Center (SCEC) on January 31 and February 1, 2020 (Friday & Saturday).
Leon is returning to the city's hottest stage SCEC after 3 years. A playful stage design in a neon city theme, exhilarating visual and sound effects, newly arranged songs and choreography will make for a memorable experience.
For a truly exclusive VIP experience, concertgoers can join the up-front excitement on the main floor or relax in the luxury of 16 private VIP suites or the 242 club level seats, supported by a dedicated deluxe club lounge.
Tickets are now available at Studio City Event Center Box Office and Studio City official website. For ticket information, please visit https://www.studiocity-macau.com/en/promotions/leon-live-2.0
Date & Time
7:30pm on January 31 to February 1, 2020

Location


Level 1, Studio City Event Center, Studio City

Ticket Prices

HKD/MOP 6,000/ 5,000/ 2,000/ 988/ 688

Ticketing
Box Offices
Phone

https://www.studiocity-macau.com/en/promotions/leon-live-2.0
Level 1, Studio City Event Center Box Office, Studio City
Macau – 853 8865 3333
Hong Kong (Toll Free) – 800 906 282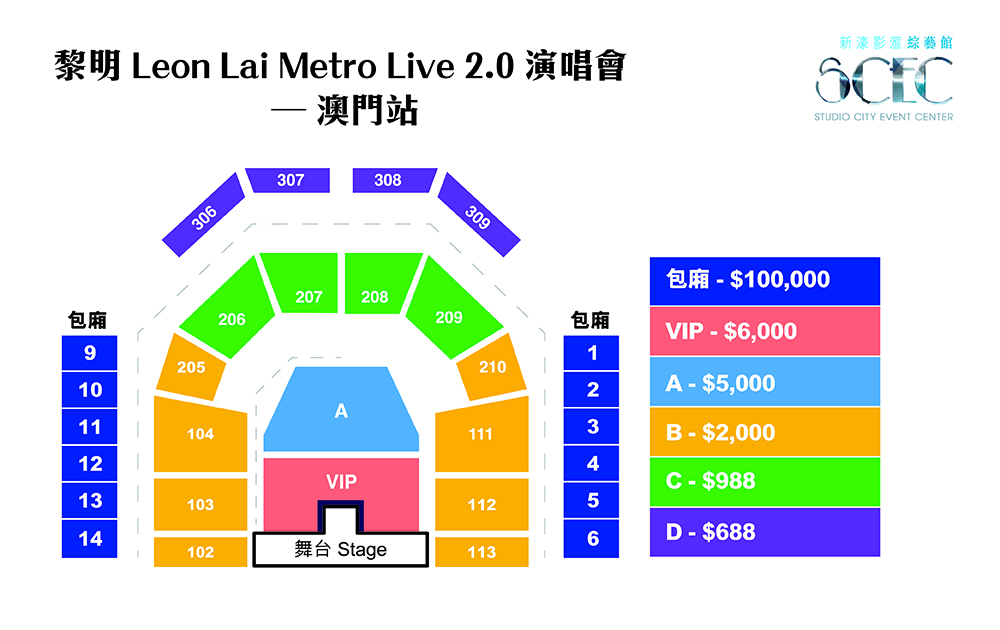 About Studio City
Studio City is set to take Macau's entertainment destination proposition to unprecedented new levels, by providing a 'next generation' of outstanding entertainment-driven leisure destination experiences that will help the territory's evolution into a truly international tourism center.
The Hollywood-themed studio-concept resort is a thrilling new cinematic inspired entertainment and leisure destination and is designed to be the most diversified entertainment offering in Macau. Ideally located on Cotai, close to the Lotus Bridge immigration point connecting Hengqin Island and a future station-point for the Macau Light Rapid Transit, Studio City will deliver more world-class entertainment amenities than any integrated resort in the market.
Studio City's stunning Art Deco facade includes the "Golden Reel", the world's highest figure-8 Ferris wheel which straddles the resort's two-tower hotel at a height of some 130 meters. The integrated resort will provide the ultimate in sophisticated leisure entertainment, hotel, retail, dining and lifestyle experiences.
The resort's innovative entertainment offerings include "Studio City Event Center", a 5,000-seat multi-purpose entertainment center designed to host live concerts, theatrical and sporting events; and "Studio 8", a 300-seat live-audience TV broadcast studio for reality and game-show productions distributed in the Asia region. The entertainment experiences also include a Warner Bros. Batman-themed 4D flight simulation "Batman Dark Flight", a 40,000-square-foot family entertainment center "Warner Bros. Fun Zone" for kids filled with Warner Bros.' and DC Comics' franchise characters and play-rides.
Studio City is destined to deliver an unparalleled leisure entertainment and hospitality experience, strengthening the depth and diversity of Macau's leisure, business and tourism proposition as a leading visitor destination in Asia.
For media inquiries, please contact:
Jennifer Lai
Tel:+853 8868 7068
Email:jenniferlai@melco-resorts.com
Nini Liu
Tel:+853 8868 7316
Email:niniliu@melco-resorts.com